by Jan Lundberg
02 February 2009

Note: This is how "clean coal" must be obtained. Spread the word not only about coal, but about the lie that society needs energy this badly. West Virginia must not be depopulated by the corporate state as a national sacrifice zone. - Culture Change
-----
Media Advisory re Massey Energy
by NIRS
29 January 2009
"No taxpayer loan guarantees for new nuclear reactors!"


[- activist alert from Nuclear Information and Resource Service] - Jan. 29, 2009:

The U.S. Senate Appropriations Committee late on the night of January 27 snuck in a provision to President Obama's economic stimulus package that would allow as much as $50 BILLION of your dollars to be used as loan guarantees for construction of new nuclear reactors.
by Black Mesa Water Coalition
09 December 2008

Denver, CO - A delegation of 35 Navajo and Hopi tribal members met with the U.S. Office of Surface Mining (OSM) on Tuesday to try to stop more devastation by Peabody Coal. The "Record of Decision" (ROD) is the final stage of the permitting process for the proposed "Black Mesa Project."
by Rising Tide North America
01 December 2008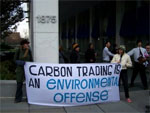 Daughter of ED Founder Accuses Group of Pushing False Solutions to Climate Change
Editor's note: Corporate megapolluters changing the Earth's climate have gotten a free pass to continue operating, as if the present economy is essential to Mother Nature. So it is heartening when direct action addresses the dangerous notion of carbon trading. - Jan Lundberg, Culture Change.
by Squersh
05 November 2008

4 November 2008 -- I'm sitting in the bright autumn sunshine by a busy road in the heart of Southend-on-Sea, Essex, England. I'm at the Camp Bling road protest site (www.campbling.org), where three years ago we first built a small tree house with a view to occupying the route of a highly controversial and hotly opposed dual carriageway scheme.
by Jan Lundberg
13 October 2008
The eco-rock music of the Depavers is available on CD now from Culture Change. Videos of Depaver Jan's music is available on YouTube.

The Depavers eco-rock a rally for saving the old growth Mattole forest, Humboldt County, California, above the lower Eel River valley. One of the songs was Freedom Says which is dedicated to the fallen activist Gypsy.
Spring Lundberg, vocalist on the Depavers album, was a Plaintiff in the pepper-spray-by-Q-tip civil rights lawsuit in San Francisco federal court. The third trial was victorious for the rights of all protesters in April 2005. Spring put out a single in Sept. 2004: Up To Us is a spunky folk-rock tune about personal change and social change being interwoven, and ultimately being up to no authority, but really just "up to us." Do it yourself! Spring has been a radical folk musician since the age of 16, when she began learning movement songs and playing at logging road blockades, campfires and rallies. One of her memorable gigs was to play with Bonnie Raitt at the 1997 Headwaters Forest Rally for thousands of protesters.
Personnel:
Spring - vocals and guitar
Michael "Tofu" Schwartz - Drums
Dave White - Djembe
Leib Ostrow - mandolin
Sudinanda - Bass and sound engineering
Up To Us in high-quality stereo M4A format (click to download, 2.6 MB file):
Up To Us - http://culturechange.org/Songs/Up-to-Us.m4a
Depaver Jan has released Humane D.A. in support of Humboldt County District Attorney Paul Gallegos's famous lawsuit against timber-corporation fraud. It was recorded live at the Mateel Community Center, Redway, in southern Humboldt County, Aug. 22, 2003, at the benefit for the pro-lawsuit support group Alliance for Ethical Business. Also just added: "Daughter Spring," the duet between a father and a protester (Depaver Jan and his daughter Spring) who was tortured by law enforcement: they applied pepper spray in the eyes with Q-tips on locked-down teenagers. See below to download and hear songs. Get The Depavers album... as heard on National Public Radio and as seen performed on CNN International, from the Kyoto Climate Change Conference of the U.N. *** Added to the original album is an out-take, Protect Thee, an intense blues work featuring our original drummer, the late Lee Stevenson. Get the CD now with 16 songs, all original. 10 other tunes: Against the Law, Schoolmaster, Answer Man, Mother Earth First, Tearin' Up the Roads, It's The Beatles, Falling from the Sky, Autumn Something and Freedom Says dedicated to Gypsy, forest defender. Featuring Jan and Spring on vocals with Jan on guitar, Tofu and the late Lee on drums, Rick, Chuck & Jeannie on basses, Ayr on mandolin, Dory Hamm on flute. Added track by Jan & Lee: Protect Thee. All songs written by Depaver Jan Lundberg Copyright © 2008. All rights reserved. Read about Depaver Jan's songwriting and see a picture of their drummer Demian at Song-Dreams for a Peaceful Earth. For performances on the West Coast, please contact us. *** How Many Worlds Have We Got is a tune Depaver Jan wrote in 2008. The baritone singing with Jan is Joel, a young actor who was living at my studio loft in Frisco. He subsequently got drunk and fell off the roof of our warehouse, and I never heard from him again. His middle name was Dean. So we were the new Jan & Dean. In the case of that '60s group, Jan got drafted and went nuts behind the wheel and crashed and almost died. Our new Jan and JoelDean only lasted one song, and it never got on the radio although I tried. It's a singalong, so I made it repetitious. Someone thought I overdid it, so I started rewriting it, such as one verse's variation being "How many girls have we got" but I moved on to other songs. The recording technique was analog, and the reverb was an old spring-loaded unit. Guitar and percussion by me, Jan, an anxious depraver, I mean depAver.

How Many Worlds Have We Got (MP3 audio, 3.6 MB file):
How Many Worlds Have We Got


Gaia Pachamama (MP3 audio, 1.9 MB file):
Gaia Pachamama