Spring has sprung--at least south of the northern tier of states where snow still has a ban on it--and the grass has 'riz. And so has the price of most foods, which is particularly devastating just now when so many Americans are unemployed, underemployed, retired or retiring, on declining or fixed incomes and are having to choose between paying their mortgages, credit card bills, car payments, and medical and utility bills and eating enough and healthily. Many are eating more fast food, prepared foods, junk food--all of which are also becoming more expensive--or less food.

In some American towns, and not just impoverished backwaters, as many as 30 percent of residents can't afford to feed themselves and their families sufficiently, let alone nutritiously. Here in the Piedmont Triad of North Carolina where I live it's 25 percent. Across the country one out of six of the elderly suffers from malnutrition and hunger. And the number of children served one or two of their heartiest, healthiest meals by their schools grows annually as the number of them living at poverty levels tops twenty percent. Thirty-seven million Americans rely on food banks that now routinely sport half-empty shelves and report near-empty bank accounts. And this is a prosperous nation!

In some cases this round of price hikes on everything from cereal and steak to fresh veggies and bread--and even the flour that can usually be bought cheaply to make it-- will be temporary. But over the long term the systems that have provided most Americans with a diversity, quantity and quality of foods envied by the rest of the world are not going to be as reliable as they were.
What's for Supper Down the Road?
As they move through the next few decades Americans can expect
the price of conventionally produced food to rise and not come down again,
prices to rollercoaster so that budgeting is unpredictable,
some foods to become very expensive compared to what we're used to
and others, beginning with some of the multiple versions of the same thing made by the same company to garner a bigger market share and more shelf space, to gradually become unavailable.
Tremors in food supply chains and pricing will make gardening look like a lot more than a hobby, a seasonal workout, a practical way to fill your pantry with your summer favorites, or a physically, spiritually and mentally healing activity, or all four. Gardening and small-scale and collective farming, especially of staple crops and the ones that could stave off malnutrition, could become as important as bringing home the bacon, both the piggy and the dollar kind. Why?
Why's Gardening So Important Now?
There are at least five reasons why more of us should take up spade, rake and hoe, make compost and raise good soil and garden beds with a vengeance, starting this spring and with an eye toward forever.
Gardening Like Everybody's Business
Under the influence and auspices of the prevailing economy, most Americans have forgotten how to provide for themselves. We've become accustomed to earning money with which we buy provisions. That process is about the have the legs kicked out from under it. Instead of earning money (or its funny-money kin like credit cards) to buy the things we need, we'll need to start providing more of those things for ourselves and each other locally and (bio)regionally. Gardening -- and small-scale farming -- while they will need to be undertaken in a businesslike fashion will be less about doing business than about everyone's having something to eat and more people being busy providing it. And while not everyone will be able to garden or farm, we are all able to get up close and personal with those who do.
In a subsequent column I'll review five variations on the theme of gardening to counterbalance the five reasons I think we need to.
Back-yard, back-porch, back-40 gardening
Community gardens
Community Supported Agriculture
Urban gardening
Taking the 'Burbs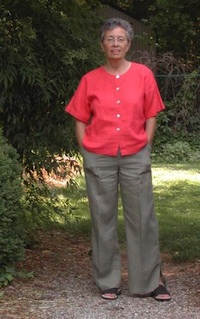 Ellen LaConte, an independent scholar, organic gardener, freelance writer, speaker and editor, living in the Yadkin River watershed of the Piedmont bioregion of North Carolina, is a contributing editor to Green Horizon Magazine and The Ecozoic and Advisory Board member at the EarthWalk Alliance. She was assistant to the late homesteader and bestselling Living the Good Life author, Helen Nearing, and as Nearing's executor helped found The Good Life Center at Forest Farm in Harborside, Maine. Her memoir of Nearing, On Light Alone was published in South Korea as well as the US. Her most recent book is the controversial Life Rules: Why so much is going wrong everywhere at once & how Life teaches us to fix it (Green Horizon/iUniverse, 2010) can be examined at www.liferules-thebook.info. LaConte publishes a quarterly online newsletter, Starting Point, and can be reached at www.ellenlaconte.com.
Further reading:
For an analysis of post-peak supply, please see Our Post-Peak Oil Future.pdf - Culture Change.
Guerrilla Gardening Gets Going - Culture Change
Urban Foraging - a Rising, Sustainable Fad - Culture Change
Pedal Power Produce - Culture Change