Ancient Humboldt forests being clearcut: Mattole Valley and Freshwater in northern California
Illegal logging by the renegade Maxxam Corporation's Pacific Lumber, Humboldt County, Calif.: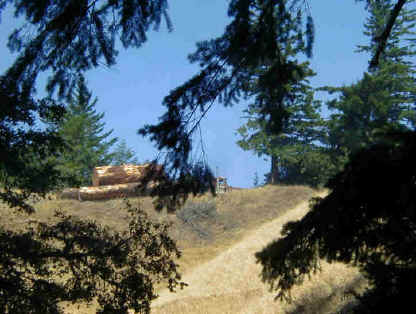 "The reason I went out to the forest to treesit was to see for myself, because it's a terrible thing the company is doing," explains a 15 year old activist from Arcata in the coastal redwood bioregion.
"I do this because I see the trees that are thousands of years old, and we now have the resources to create what we make from trees out of new material.  The alternatives don't destroy time and economy so much.  What the loggers are doing is devastating to the economy and to our hearts.  We need as much help as possible to slow down Maxxam Corporation and to bring about a happier place for the world."
The late, great Sulphur Creek forest: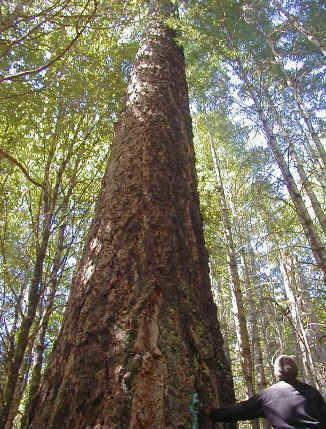 Sulphur Creek lies on the north fork of the Mattole River. This area was densely inhabited by spotted owls, but clearcut by Pacific Lumber Co.
Canned Heat, another Timber Harvest Plan that Pacific Lumber wants to clearcut: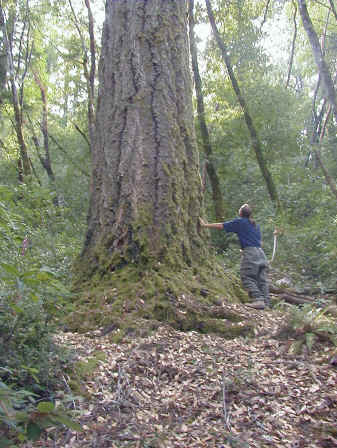 Canned Heat has not yet been approved by California Department of Forestry.  This area is probably the most important nesting area left in the Mattole for spotted owls, and a clearcut will be running right through their homes." - A.A., treesitting photographer for Culture Change magazine.
In early fall 2002 thirteen women treesat for 13 days, joining other treesitters in the Mattole and in Freshwater. Thirteen for Thirteen was a success, although more support is needed from the mostly somnolent local populace and from citizens around the world.
Freshwater Forest is mainly ancient redwood, northeast of Eureka, California.  The state water board could have shut down the logging, as it was causing flooding to homes and spoiling wells; however, the state agency "wimped out," according to activists, and instead asked for mediation with "the renegade, lawless timber corporation."  
The Mattole River is south of Eureka in Southern Humboldt County, and the trees at risk are mainly doug fir.
Here are relevant websites for more information, including how to get involved and visit the trees: www.sf.indymedia.org/features/forest - www.mattoledefense.com - www.ancientforests.org - email: wesavetrees@ziplip.com