Second Annual Arrest-a-thon
Headwaters Forest's Car Rally
by Jan Lundberg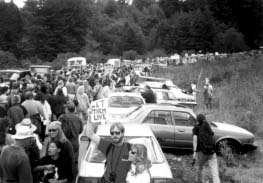 I confess I did not get arrested on September 15 at Humboldt County, Calif.'s second-annual protest march for threatened ancient redwoods. There were 1,033 arrests, all for stepping over a property line in a prearranged ritual.
Six thousand descended on Carlotta, just southeast of Eureka, and rallied to speakers and musicians. I almost didn't go; I hate cars and parking hassles.
A year before, in an almost identical rally and arrest procedure with less than half the people, two features disturbed me: (1) there was no discussion of roads or overpopulation in the speakers' rants on the need to protect ancient forests, and (2) the rally organizers had made a deal with Pacific Lumber/Maxxam and with local law enforcement to not march on the highway (two-lane Hwy. 36).
So this last time I expected to get arrested when I walked in the road or invited others to do so. It just isn't much of a demonstration if people can't even take over their own roads for a while.
During the rally, "green police" volunteers enforced the organizers' rule against stepping onto the highway. This was all to accommodate traffic, most of which was hostile local young males out to antagonize protestors, ogle females, or just be seen.
We Finally Took the Road!
When it came time to march west to Pacific Lumber's log deck, however, people did not obey the green police, many of whom had been obsessed with herding people off the road into sardine-like crowds on the narrow shoulder near the stage.
So we took the road! I felt exalted as I stood in the middle of Hwy. 36 and waved my fellow protestors into it, and proceeded to walk down arm in arm in total safety.
About Headwaters Forest: Pacific Lumber was a more self-restrained logger prior to the 1985 junk-bond takeover by Maxxam. It owned an area dubbed by Earth First!ers "Headwaters Forest," which comprises 3,000 acres in the Headwaters Grove and 60,000 acres in the total Headwaters Forest.
The Headwaters Road Connection
According to conservation biologist Reed Noss, over 90 percent of the erosion in a clearcut forest is due to the roads themselves, as opposed to the resulting stumpy landscape. So one of our slogans seen on bikes and guitar cases proclaims, "It's Hard to Destroy Wilderness Without Roads."
Activists refer to Pacific Lumber/Maxxam's illegally built road into the heart of Headwaters Grove as the "Death Road," because of the damage to the forest and forest-dependent species.
As APM strives to educate people on the effects of roads on the environment and economy, the emotional appeal of ancient trees is a good opportunity to do so. So we at APM have worked on the Headwaters issue, and in so doing have made converts to general road fighting and away from car dependency.
In a speech on Arcata's town square September 29 before 1,000 Headwaters supporters, I made the connection between roads, "carmageddon" and Headwaters. I asserted that the lack of sufficient numbers of activistsówilling to block roads and work to end road building in generalówas the reason for Headwaters' demise and the "thousand other Headwaters" not getting the same attention. I got the time because I'm the proud father of one of the road blockaders and tree sitters removed by force from Headwaters. If I get more than one minute allotted in the future, I'll lead a chant of "No More Roads!"
Our movement has lacked a warm and emotional image such as a harp seal or redwood tree. Until we surmount this with a better mass appeal than just opposing car/asphalt domination, I will keep working.
Meanwhile, organizers will rush ahead and don't see the forest for the trees, or so it appears. For example, the Humboldt County rallies in September had sound stages powered by fossil fuels (generator and the grid), whereas with a little preparation an excellent local "human energy converter" (pedal power) could have been used.
Strategic Failures Mounting
Unfortunately, when environmentalists focus their slogans and media statements on saving a particular placeórather than using the situation as an example of the greater problemócompromises will usually result and the real issues left unaddressed. In the case of Headwaters, 11 years of activism has been reduced to little more than a discussion of how many acres will be ceded to the feds and possibly "saved."
So let us hope that the current state of affairs, made sour by local Sheriffs' officers and by the Democratic Party sweetheart deal for the head of Maxxam (charged with looting a savings-and-loan as well as the Pacific Lumber pension fund), will not result just in a "third-annual arrest-a-thon" when there are yet fewer ancient trees, and more roads for logging and transport.
Right when strategy should be changed or enlarged, many Headwaters activists don't even admit failure. Some extra-vocal activists seem to define what and who is "Earth First!," using their own daily routines as the only yardstick. This results in lost opportunities to include other views of the big picture or to relinquish the self-appointed leadership more frequently.
Other activists should be completely welcomed, many of whom are willing to use civil disobedience. And no opportunity should be lost to ever seize a road.
These factors should be overcome if we are to connect all the links to deforestation of a special place and the overall paving of the planet. Some abandon "woods actions" for reasons other than interpersonal conflict, but fortunately many such activists continue to work more effectively elsewhere.