Burlington, Vermont's Church Street
How to Make a Street Auto-Free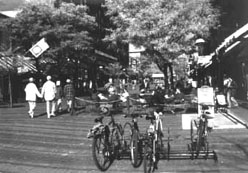 Burlington, Vermont, would seem the ideal political climate for auto-free zoning—being this "eco-groovy" state's largest city and cultural and commercial center. The area boasts colleges, outstanding recreation, Victorian character, plus panoramic views of mountains from Lake Champlain.
Church Street's retail district is composed of largely three- and four-story buildings along a 66-foot-wide street. The street level of the buildings was originally filled by diverse retail establishments. Before the exclusion of cars, pedestrians were allocated only 31 to 40 percent of the public street space, with the remainder going to parking, autos, buses and service vehicles.
Unlike most U.S. auto-free business districts, Burlington's Church Street and the rest of its downtown were doing well before the transformation of four blocks into the Church Street Marketplace. But progressive elements in the city, especially in business and government surprisingly, pushed for the change.
The Church Street Marketplace concept was originally conceived in 1958 urban-renewal discussions. Thirteen years later, a one-day experimental street fair attracted 15,000 people to four temporarily auto-free blocks of Church Street.
As a further investigation into the feasibility of a Church Street Marketplace, a second street fair was planned for a week in the summer of 1972. Traffic was rerouted from the four blocks of Church Street, extra transit was added for the week, and short-term physical modifications were made on the street, such as adding trees, benches and booths. This great success—marked by an estimated attendance of 50,000 during the week—facilitated the planning of a pedestrian mall.
After eight years of meetings, studies, grants, and lobbying and 16 months of construction, the Church Street Marketplace was completed in 1981. None of the Church Street businesses changed locations or terminated business during construction. Retail sales in the area showed no decline.
The final design included bringing the street level up to the sidewalk level, resurfacing the street with brick, adding canopies and shelters, closing the street to cars on three blocks, and implementing the downtown bus loop which would enable buses to cross Church Street at two intersections. Thus passengers are dropped within 350 feet of any destination downtown.
Unfortunately, this modest car-free experience has been stuck in neutral and has not grown. The community recently allowed a Wal-Mart to locate nearby, guaranteeing more car dependency, poison runoff, air pollution, and the bleeding white of small businesses.
But at least we have the Church Street Marketplace as an example, and the Alliance for a Paving Moratorium hopes to spread the concept widely.