APM Road Fighters' Alert helps stop Highway 162 
by Randy Ghent
Rank-and-file environmentalists everywhere were upset that California's Mendocino National Forest would get a big, bad road through it, Highway 162.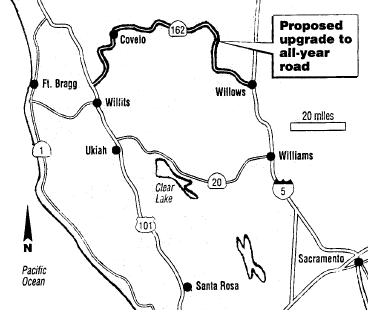 Ostensibly the highway was for transportation convenience and to promote economic revitalization through tourism. Seasoned activists believe it was really to allow the bulldozing, asphalt-spewing juggernaut known as the California Department of Transportation (Caltrans) to justify its budget and enable trucks to haul junk food between I-5 and Highway 101. The good news: The proposal to pave and upgrade Highway 162 was stopped, thanks in large part to the Alliance for a Paving Moratorium's Sept. '94 Road Fighters' Alert.
Anti-162 activist Corey Miller learned from anonymous sources in Caltrans that the over two dozen well-reasoned, articulate letters from around the country generated by the Alliance presented Caltrans with the problem of "environmental opposition." After being convinced against Highway 162, Caltrans officials were given an excuse to not build a road project they wish to delay or exchange for another.
The agency instead parlayed Highway 162's funds to southern California for a road in Twenty-Nine Palms.
Who was it that said, "All our victories are temporary and our losses are permanent"? Shifting of road-project funds attests to the need for state-wide moratoriums on new roads, in every state.
Aside from the general environmental problems posed by roads, Highway 162 would have fragmented old-growth habitat, required extensive logging, and contributed to erosion, sediment, and pollution of the Middle Fork Eel River, Black Butte River and Cold Creek.
Highway 162 could rear its ugly head again, "but it's a very low priority" now, according to environmental activist Tim McKay. McKay sits on the Coastal Province Advisory Committee, or PAC. The role of this PAC is controversial, as Mendocino road fighter Don Morris asserted: "The Province Advisory Committees are just another layer of bureaucracy shoveled on us by Clinton's forest plan to give people the illusion that they're having input."
The PAC's only position on Highway 162 is that, if built, the road should be consistent with the "Aquatic Conservation Strategy." This would afford various watershed-protection measures and a "no net increase" in road mileage in the Mendocino National Forest. McKay expects the Highway 162 issue will be revisited by the PAC. The environmental group McKay directs, the Northcoast Environmental Center, has taken no position on Highway 162 but is an APM member-group active in promoting road removal on National Forest lands.
The Alliance has asked McKay to oppose Highway 162 on the grounds that the U.S. and Californiaówhile continuing to build new highwaysócan't even afford to maintain the ones we already have.
Ryan Henson of the California Wilderness Coalition, who sits on another PAC, is less optimistic than McKay. He feels Highway 162 is almost a certainty if Representative DeFazioówho has backed the roadóis reelected, and the Democrats regain a majority in Congress in November. Unfortunately, road schemes rarely dieóthey're just delayed.