Protesting the bloody Iraq Occupation and U.S. spending priorities
"We're plenty tough... Our troops are taking care of business..." - President George W. Bush, April 11
Call initiated by the A.N.S.W.E.R. Coalition:
Int'l Day of Emergency Protests:
Saturday, June 5
March on the Pentagon
Washington DC
Gather 12 noon - White House

Mass Mobilizations in San Francisco & Los Angeles

Bring the Troops Home Now
All foreign troops OUT of Iraq
End the Colonial Occupation of Palestine
Support the Right of Return

U.S. OUT of
Haiti, Korea, Afghanistan,
Philippines, Colombia, Cuba, Venezuela

Money for Jobs, Education, Housing & Healthcare - Not for War!
Defend Civil Liberties & Civil Rights
A.N.S.W.E.R. response to Bush press conference, and planned protests

Washington, D.C. rally and march, April 10, 2004
a Culture Change Media report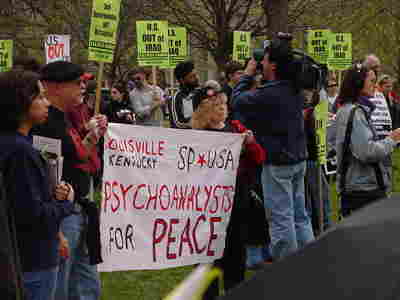 At noon on a warm, sunny Saturday ó the gods smiled on us; the next day was rainy ó about 200 people gathered at Lafayette Square across from the White House.  Speakers set out their clear positions against the U.S. occupation of Iraq and tried to agitate the crowd to hate further the "criminal in that building over there."  A high fence along the border of Pennsylvania Avenue now obscures the ground level of the White House from the park.
Before all the speeches could wear out the crowd, the march commenced to proceed through downtown Washington and up through Northwest to Columbia Heights.  This substantial distance was repeated as a loop was made and we returned to Lafayette Square  hours later.  The march crowd was a larger than the rally, and was well received by many passersby and motorists who had been unaware there was a rally and march planned.  
The marchers took over the whole road on the parade route.  Marchers were occasionally herded by police who rode a few motorcycles in the center of the streets.  The police were most angry at any motorist who delayed traffic while expressing support for the marches.
The protest was planned on Tuesday and announced on Wednesday.  Because of the short notice "that's why there were not 50,000 to 100,000 people here," said an organizer with ANSWER (Act Now to Stop War and End Racism). She said too few people are connected to ANSWER's website and emailings to find out quickly what protests are planned and when and where.  However, unless large numbers of people can respond faster than that, the peace movement will not enjoy major clout.  The organizer was to consider Jan Lundberg's offer to speak on oil issues, but she was distracted by a man reporting that a reporter had assaulted him.
A National Lawyers Guild observer monitoring the whole march on her bicycle was asked, "Why were there so few people for the rally today?" "Because the people of this country are so f*cked up. In other countries protests are bigger against the Iraq occupation, while this is the nation perpetrating it." Surprisingly she had not been arrested for riding on sidewalks.  There were not large numbers of "robocops" on hand to intimidate protesters. She was nevertheless disturbed by an assault by a police officer on a motorcycle who tried to run down an old man handing out anti-occupation fliers to pedestrians on the route. "He missed him by this much," indicating about an inch with her fingers. In past protests the police/military presence was massive, and busloads of protesters' rights of free speech and assembly violated.
Before the march Jan Lundberg was interviewed by German television's public network ARD. The question was, "Are you disappointed that more people aren't here?" I responded, "The masses should get off their asses. The occupation by the U.S. in Iraq is about taking the resources of another country in order to maintain the life styles of the greedy and of the U.S. consumer, while the ecological basis of the real problem remains ignored..."
Speakers at the park and organizers leading the march with bullhorns and a sound system in a pick-up truck repeatedly exhorted the crowd to support the people of Palestine as well as Iraqis in their struggle for "self-determination," and for the U.S. to "get off their soil." Some of the chants on the march were "No war for oil!" "Intifada, intifada!" "Hey Bush whadya say, how many kids ya kill today." "What do we want? - Justice! When do we want it? - Now!"  Other chants called for jobs, education and housing rather than war.  The organizers and the marchers were energetic and all engaged in each chant for the length of the march.
The Washington Post, which probably failed to report the march and rally in advance, carried a good story the march the next day, with a picture of marchers, on page A-22.  But the Post's editorial allegiances were evident just by having war criminal Henry Kissinger's huge op-ed next to the Post's usual editorials and letters to the editor.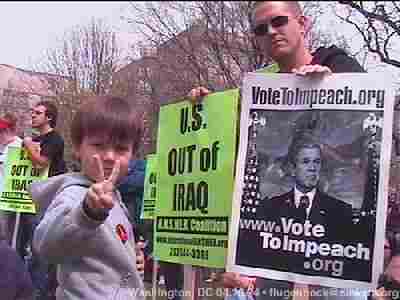 The press was in good attendance for the rally, but the television cameras for the march were too heavy to bring along.  At the park some young women hung a small peace banner from a branch of a small tree, but police made them take it down.  A reporter commiserated with them by saying,"they won't even let me put up a tripod."  His camera had an American flag decal on it.  It did not do him much good in terms of exercising much freedom of the press, if being unable to mount a camera inhibited getting good footage for broadcast.  Reporters gave much attention to hecklers claiming to be Iraqis in support of U.S. policy.
Photos courtesy Indymedia.org.  For reportage and more pictures of the rally, see dc.indymedia.org
To see Washington Post article and photo, click here but you may have to register with them (free).  The Post's story and other major newspapers' stories on the April 10 protests are obtainable free through www.votenowar.org.
ANTI-WAR MARCHERS TAKE TO THE STREETS IN EMERGENCY PROTESTS IN MORE THAN 60 CITIES THROUGHOUT THE U.S. 
Demonstrators in the U.S. Demand End the Siege of Fallujah, Bring the Troops Home Now 
Thanks to everyone who have helped with the rapid response emergency anti-war demonstrations that have taken place in the last 48 hours in more than 60 cities. Additional actions are scheduled for tomorrow (Monday, April 12). 
The demonstrations not only brought tens of thousands of people into the streets in local rallies and marches, the actions also attracted widespread media coverage both in the United States and around the world. The emergency call to action was issued by the A.N.S.W.E.R. Coalition (Act Now to Stop War & End Racism).  
Our message that the U.S. government must Bring the Troops Home Now and End the Occupation of Iraq was heard from East to West and North to South. There are articles about the emergency anti-war actions in the Washington Post, the Los Angeles Times, the Oakland Tribune, the San Francisco Chronicle, AP, AFP, Xinua (China), Seattle Times, Philadelphia Inquirer, and hundreds of other news outlets, as well as substantial television and radio coverage. You can check out the press coverage of the emergency anti-war demonstrations by going to: http://www.votenowar.org/april10.htm 
These demonstrations, organized on less than three days notice, are a rapid response from the people of the United States to the Bush Administration's escalation of their attacks on the people of Iraq, who are uniting in their opposition to colonial occupation. The emergency actions fell on the first anniversary of the capture of Baghdad by U.S. military forces and eleven months after George W. Bush declared major military operations were over as he stood on the deck of the U.S.S. Abraham Lincoln aircraft carrier under the banner "Mission Accomplished." 
While Bush's approval ratings and public support for the war has dramatically declined since then, the anti-war movement has picked up strength. In addition to recent mass national demonstrations, today's emergency local actions show the breadth of grassroots organizing in the U.S. Within 24 hours of the emergency call to action, dozens of cities were announcing coordinated demonstrations between April 9 and 12. Chanting "Money for jobs and education, not for war and occupation," more than 3,000 people marched through the streets of San Francisco on Saturday, April 10. In New York, 700-1000 people marched through mid-town Manhattan in rush hour on the Good Friday holiday. A protest of 500 took place at the same time in Los Angeles. In Washington DC, where 500 people marched on Saturday, people came out of restaurants, homes and businesses to join with the marchers. Chants of "Impeach Bush," echoed through Lafayette Park at the opening rally across from the White House. 
Also on Saturday, a protest of 500 took place in Boston. Dozens of demonstrations also occurred throughout the U.S. from big cities like Chicago, San Diego, Atlanta, Birmingham, and Seattle to medium and small cities and towns including Fayetteville, AK; Ferndale, MI; Pocatello, ID; and Gettysburg, PA. In addition to the U.S. protests, coordinated actions were also held in scores of cities in countries around the world in the last two days. 
The Iraqi people, especially those in Fallujah, are enduring a heavy assault ordered by the Pentagon. Throughout Iraq the people are making it clear that they want the occupation to end. The actions over the weekend send a powerful message that the people in the United States oppose the Bush administration's criminal policies in Iraq, in Haiti, in Palestine and wherever people are living under foreign occupation. 
It was noteworthy that in the demonstrations throughout the country in the last two days, people condemned the Bush administration for spending hundreds of billions of dollars to occupy other lands while insisting that "budget constraints" require the slashing of vitally needed social programs and funding for education, healthcare, housing and jobs. Let's keep up the pressure. It is critical that the people of the United States continue to act in the coming weeks and months. Thousands of Iraqis and a growing number of U.S. soldiers will be killed and maimed until this criminal adventure comes to an end. 
Be sure to check out the press coverage of the emergency anti-war demonstrations by going to: http://www.votenowar.org/april10.htm -------------------------- 
A.N.S.W.E.R. Coalition Act Now to Stop War & End Racism FOR MORE INFORMATION: http://www.InternationalANSWER.org info@internationalanswer.org 
New York 212-633-6646 
Washington 202-544-3389 
Los Angeles 213-487-2368 
San Francisco 415-821-6545 
Sign up to receive updates (low volume): http://www.internationalanswer.org/subscribelist.html
*****
50+ U.S. CITIES HOLDING EMERGENCY IRAQ PROTESTS  
-  from International A.N.S.W.E.R.
April 8, 2004
New cities are announcing their plans by the hour! 
- please post widely - 
The Iraqi people are uniting in widespread opposition to the occupation of their country and the U.S. government is attempting to crush this revolt with overwhelming violence. The Iraqi city of Fallujah is under siege. According to the director of the city's hospital, at least 280 Iraqi people have been killed since Sunday in Fallujah alone - and at least 460 have been killed throughout the country. The number of injured in Fallujah has surpassed 400, and hospitals report that there are many more people who are dead or wounded but who are unreachable because of the fighting. U.S. helicopters and snipers have been firing on ambulances and civilian vehicles trying to bring the wounded to hospitals. 
The Iraqi people want the U.S. occupation to end and the U.S. troops and their families increasingly demand that the U.S. leave Iraq. More than 40 U.S. soldiers have been killed since Sunday, and now Pentagon and White House officials are saying they may increase the number of troops in Iraq as well as prevent the troops that are scheduled to return from leaving. The time to act is now! More than 50 U.S. cities have answered the call put out by the A.N.S.W.E.R. Coalition to hold nationally-coordinated emergency demonstrations between Friday, April 9 and Monday, April 12 to demand U.S. OUT OF IRAQ, Bring the Troops Home Now and Money for jobs, education and healthcare - Not for wars of aggression. New cities are announcing their plans by the hour. Demonstrations are also taking place around the world. See below for details on how you can join these important demonstrations. 
* * * * * UNITED PRESS INTERNATIONAL: 

Nationwide protests against Iraq war WASHINGTON
April 8 (UPI) -- Opponents of the war in Iraq are gathering in cities across the United States over the Easter weekend in response to a call to action to protest the war. 
The anti-war ANSWER Coalition has issued a call for "emergency local demonstrations" nationwide to protest the war in Iraq, call for the return of U.S. troops from Iraq, and a call for money for healthcare and education, not the war. ANSWER is an acronym for "Act Now to Stop War and Racism." 
As of Thursday demonstrations were planned for Friday through Monday in 17 towns and cities [now more than 50], including New York, Chicago, Los Angeles and Washington at the White House. "The revolt sweeping Iraq in opposition to foreign occupation has resulted in the White House and Pentagon ordering a reign of terror against all those who defy U.S. dictates," the organization said in a statement announcing the protests. "Hundreds of Iraqis have been killed. A large number of U.S. troops have also died. And there is no let up in sight. ...
The current crisis in Iraq is again stimulating protests around the country and around the world," the statement said. 
* * * * * Cities holding demonstrations include: Albuquerque, NM Atlanta, GA Augusta, ME Baltimore, MD Binghamton, NY Birmingham, AL Boston, MA Buffalo, NY Carlsbad, CA Cedar Falls, IA Charlotte, NC Chicago, IL Detroit, MI Fayetteville, AR Ferndale, MI Gettysburg, PA Grand Rapids, MI Kingston, NY Long Island, NY Los Angeles, CA Massachusetts, MA Middletown, NY Mill Valley, CA Minneapolis, MN Mountain View, CA New Haven, CT New York, NY Portland, OR Providence, RI San Diego, CA San Francisco, CA San Jose, CA Sarasota Springs, NY Seattle, WA Springfield, MA St. Petersburg, FL Washington, DC & more! 
----------- and this from a previous email... The San Francisco march and rally is initiated by the A.N.S.W.E.R. (Act Now to Stop War and End Racism) Coalition and will take place on Sat., April 10, 12 noon at UN Plaza, on Market St. between 7th & 8th Sts. 
To endorse or to volunteer, email us at April10@actionsf.org. 
Flyers, posters and stickers are available at our office, 2489 Mission St., Rm. 24, San Francisco, (corner 21st St.) Our phone number is 415-821-6545. A downloadable flyer is available at www.actionsf.org.
A growing list of cities holding demonstrations can be found at http://www.internationalanswer.org/campaigns/a10/a10events.html (this page includes downloadable flyers and is updated frequently) 
 
Read the Call to Action: IRAQ AT THE BOILING POINT http://www.internationalanswer.org/campaigns/a10/index.html
No War for Oil!
Solutions to driving over our ecological cliff - whether preventing war or during "peace"

"A violent culture is not the only one conceivable," was our response in Culture Change magazine to the 9-11 attacks.  The U.S. government has an oily foreign policy history which led up to this "War OF Terrorism."  We know from our petroleum-industry background here at Sustainable Energy Institute that in our overpopulated society, driving cars and consuming manufactured goods are again bringing on war for oil.  We are heartened that resistance to war is mounting along with consciousness that we must graduate from massive fossil fuel dependence.  


Read "Spare Iraq and the atmosphere, avoid oil shock" by the environmental movement's well known oil-industry analyst Jan Lundberg.  To complement the vision of a petroleum-free future, peace must be attained now and forever for sustainable security.  
For more information about the war on Iraq read:
Understanding the U.S.-Iraq crisis: A primer by Phyllis Bennis
Sustainable Energy Institute and Culture Change promote sustainable living in recognition of natural limits on technology.  In 1990 we formed the Alliance for a Paving Moratorium largely as a peace proposal, during the buildup of the first Gulf War.  Now the world is at even greater risk, as the limitations on invading Iraq - recognized by the first President Bush - are not being heeded by George II.  In response to this latest global threat, we offer this analysis: Ending U.S. Oil Tyranny.
In addition to stopping new road construction to stop sprawl wherever we could, we have launched projects such as Pedal Power Produce toward local-based food security.  Petroleum in effect feeds most of the planet, but oil's running out.  Demanding no more war for oil is excellent, but will go nowhere if oil consumption is not slashed now.  Energy consumption is out of control in industrial societies, twice as bad in the U.S. and in Europe.  Business as usual constitutes the main threat to life.  Wars serve as a distraction from the reality of the ongoing war on the planet waged by U.S. and transnational corporations seeking profits and control over all countries.
We have ideas on how to slash energy consumption while securing a better way of living.  This cultural change can be brought about by some simple programs.  One is to end new oil exploration such as offshore drilling: join the Committee Against Oil Exploration.  For acting locally to change globally, take the Pledge for Climate Protection to cut petroleum dependence and heal the land.  Thank you for helping to create a greater sense of community.  And don't forget to cut down on guzzling oil now, if we are to achieve Peace!
- protest.net is a well put together calendar and announcement system for worldwide protests against global corporate players' scams and devastations of the environment. 
- Oil depletion warning in The Oil Endgame is Here; see links from southwestenergy.org
- Get informed about antiwar.com a division of the Center for Libertarian Studies.

- Check out Voices of the Wilderness at www.nonviolence.org/vitw/ which conducts a Campaign to end the Economic Sanctions Against the People of Iraq.

Get back to our main No War for Oil page